Shiobara Taiko workshop info:
Friday evening 15/9 is suitable for beginners and the evening costs 600 SEK.
Saturday16/9 and Sunday 17/9 is a continuation and costs 1200 SEK each day.
The workshop venue is at our studio in Southern Stockholm.
During the weekend there will be an opportunity to learn basic bambu flute
"takebue" This is included in the workshop fee.
Click here to contact us for booking and enquiries.

We learn to play high quality Keyaki and Meari taiko drums from Japan och learn mostly traditional taiko works from different regions of Japan. Taiko means large drum in Japanese and this simple instrument has a profound range of expression. Rolling thunder and soft raindrops, roaring waves and galloping horses spring to mind.
Taiko drums are played traditionally in Japan in many different ways, usually in conjunction with local shinto festivals.
Nowadays there are international Taiko groups that perform with modern taiko pieces globally and there are taiko groups in many different countries.
Taiko music is played in an intensive, meditative and sensitive way. Sound vibrations, energy and physical movement open channels of energy that are stimulating for mind and body.
Sweden Taiko proudly arranges workshops with professional taiko players from Japan.

15-16-17 September 2017 Ryo Shiobara teaches a weekend taiko master class in Stockholm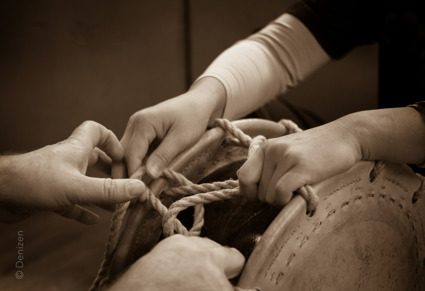 Continuation - Sunday afternoon Taiko!
We have regular training on sundays 17:00-19:30
In order to join, some experience is essential.
Start 27 august! Klippkort 5 ggr 750:

WEEKEND WORKSHOP WITH RYO SHIOBARA AND KAZUMI AREN
PROFESSIONAL TAIKO ARTISTS FROM JAPAN