We learn to play high quality Keyaki and Meari taiko drums from Japan och learn mostly traditional taiko works from different regions of Japan. Taiko means large drum in Japanese and this simple instrument has a profound range of expression. Rolling thunder and soft raindrops, roaring waves and galloping horses spring to mind.
Taiko drums are played traditionally in Japan in many different ways, usually in conjunction with local shinto festivals.
Nowadays there are international Taiko groups that perform with modern taiko pieces globally and there are taiko groups in many different countries.
Taiko music is played in an intensive, meditative and sensitive way. Sound vibrations, energy and physical movement open channels of energy that are stimulating for mind and body.
Gruppen Sweden Taiko har två professionella mentorer från Japan - Taikomästaren Ryo Shiobara och Taikomästarinnan Kumiko Suzuki som regelbundet besöka oss för att både undervisa och att ge offentliga konserter. Vi är mycket stolta över att få möjlighet att kunna lära oss autentisk Japanska taikomusik från de två mycket kända Japanska taikomästare.
Ibland arrangerar vi workshops i shinobué ibuki (Japanskt bambuflöjtspel). Sweden Taikos Shinobué-läraren heter Aren Kazumi och är verksam i Japan.
Andrew Hickman, konstnärliga ledare för Sweden Taiko, också undervisar Japanskt taikospel. Andrew Hickman började spela taiko 1991. Han besöker Japan regelbundet för att vidarestudera spelteknik och för att söka inspiration från olika håll som ofta leder till nya programinslag.
Sedan flera år tillbaka samarbetar Sweden Taiko med Etnografiska museet och med Östastiatiskamuseet i Stockholm.
Var med du också! Pröva spela Taiko med oss, du är varmt välkommen:)
kontakta oss
Grundkurs i Japanskt Taikospel.
Lördag 23 mars10:30-16:30
Kostar 600 kr
Plats Martinskolans musiksal
Munstycksvägen 18, 12357 Farsta.
HACHIJO TAIKO med Andrew Hickman. Suggestivt och dynamisk duetspel där två spelar på samma taiko trumma. Ett traditionell taikospel från ön Hachijojima, Japan.
Kursinnehåll:
Slagteknik, rörelser, grundläggande rytmslingor och ett traditionellt taiko stycke som spelas på ön Hachijojima.
Anmälan:
Sätta in 200kr anmälningsavgift till BG 160-8223
Anmälningsavgift dras bort från kursavgiften 600kr-200kr = 400kr kvar att betala.
Anmäl dig nu
6/7 APRIL - MASTERCLASS MED KUMIKO SUZUKI - Denna fantastisk taikoproffsen från Tokyo lär ut ett nytt taikostycke.
kostar: 1500kr för två dagar.
Du som är sugen på att lär dig spela taiko - Passa på vår
Taiko weekend workshop (suitable for beginners) with Taiko mästafrinnan
Kumiko Suzuki från Japan.
Weekend grundkurs i Japanskt taikospel -

Lördag 6 april & söndag 7 april 10:30-16:30
Kostnad 1500kr för två dagars undervisning.

Anmälningsavgift 500kr vilket dras bort från kursavgift. 1500kr-500kr = 1000kr kvara att betala.
Anm,älningsavgift betalas in på BG 160-8223
Uppge namn och e-post i samband med betalningen
About Kumiko Suzuki:
Kumiko has had several sold out taiko workshops in Stockholm since her first visit to Sweden Taiko April 2015. Her workshops are always full of surprises and she teaches both basic and more advanced techniques and rhythms in a fun and action-packed manner. It is with great pleasure that we are again able to invite Kumiko to teach taiko workshops for us at Sweden Taiko.
Born in Kawaguchi, Saitama, Japan. Kumiko joined her local Taiko group when she was 10 years old. She learnt Hatsuuma-Taiko which is her local traditional art and entertainment. She was the principal Taiko drummer in the group. Kumiko came to London in 1997. She joined Joji Hirota and London Taiko drummers group in 2001. She has diversified to a modern style of taiko drumming. In her career to date she has collaborated with lots of great artists including Roger Taylor (Queen), Taylor Hawkins (FOO Fighters), Chad Smith (Red Hot Chili Peppers) at Live Earth (Wembley Stadium) 2007, Midge Ure (Ultravox) at WOMAD S.Korea 2005, Kenny Endo (Taiko Master in Hawaii), John Kaizan Neptune (Shakuhachi Master ) 2006 etc. She has performed and collaborated with all types of world music styles and artists at WOMAD UK 2003/2006/2010, WOMAD Spain 2002, WOMAD Adelaide and New Zealand 2008. An American Tour 2003/2004, Brugge festival 2004/2007, Czech Tour with Cechomor 2007. Kumiko has performed worldwide in more than twenty different countries. Recently Kumiko has played with Jah Wobble and the Nippon Dub Ensemble at Ronnie Scotts in London. Kumiko has tried to pass on her knowledge and experiences through her Taiko workshops to Royal Shakspeare Company, Japanese Society and schools and organisations in the UK and Italy. Welcome to Kumiko's workshop 6/7April.
Kumiko Suzuki

17 MAJ - SHINOBUE WORKSHOP, JAPANESE BAMBU FLÖJT - Masterclass med Japanska flöjtmästaren Yasukazu KANO - för dig som vill lära dig grundtekniken för att kunna spela japanska flöjtmusik på bambuflöjt. Instrument går att låna under kursen.
Anmälan: Världsmuseet Östasiatiska
Yasukazu Kano

20/21SEPTEMBER - MASTER CLASS MED RYO SHIOBARA - Mästaren från Nagano, Japan återkommer med fortsättningskursen Shin Byashi.
Ryo Shiobara
Anmäl dig nu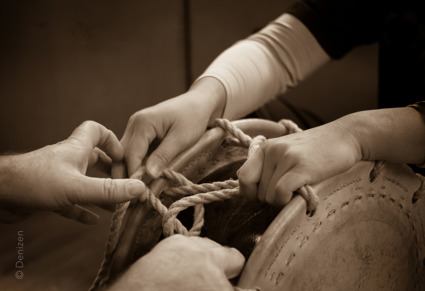 Below:
An ancient taiko duet on the Japanese island Hachijo-jima.